Making as name for yourself as an artist and captivating an audience is a challenge on its own, but when you're trying to get people to care about your art, where do you start? In an environment where everyone seems to favor fleeting trends and has a monopoly on originality, how do you stand out and get your art in front of attentive eyes?
With the right approach and content, artists can establish themselves as something beyond a trending topic and develop a genuine connection with their audience. An artist's strong relationship with their dedicated followers has the power to impact or even shift the larger cultural conversation. Niche interests like brush lettering have cultivated a following thanks to unique artists popularizing the field. It's not enough for people to appreciate your art — they have to subscribe to your artistic vision.
Here are some ways you can get your audience to interact with your art in a meaningful way.
Offer a sneak peek into your methods
Showing behind the scenes processes will always attract attention. Pique viewers' interests by making them ask "How did you do that?" Being creative with the ways you reveal your art-making is another way to get people to know you. Utilize unconventional storytelling, time lapse videos, or editing techniques to establish your style. Making the process easy to understand and break down complex points. Providing a point of entry for new fans/ or followers makes you come off as approachable and ensures that your audience doesn't feel alienated.
Post a series or collection
To maintain an active feed, make sure you post at regular times or when the majority of your followers are online. Keep up a regular schedule so your followers know when to expect new updates or announcements, and it will maximize the exposure of your content.
Feature a variety of images, such as ones that showcase stages of a past or current project. Curate your posts to show that you put thought into what you decide to share, and provides a sense of purpose.
Talk about what inspires you
What compels you to make what you make? Break down specific choices — why you chose a certain color palette, your reference for a motif, even a stray observation. Make your objective as an artist clear – is it for a cause, explore new ways of expression, etc.? When you express your particular ideas for your work, your audience will have a greater appreciation for the art and you as an artist.
Different platforms can serve different functions; you can share glimpses of your everyday life with Instagram stories in real time, while Facebook can feature lengthier posts about your methods.
Remember that your page doesn't need to be a highlight reel
Maintaining a positive image on social media doesn't mean you have to show only the best of your art. The more you talk about your imperfections, struggles you face as an artist, and other less than polished sides of your artistry. It's more important to be truthful about your art and magnify flaws. Your audience wants to relate to you!
---
For more tips and strategies for improving your artistry, check out these related articles. Then, enroll in the courses below to learn more about how you can grow as a professional artist: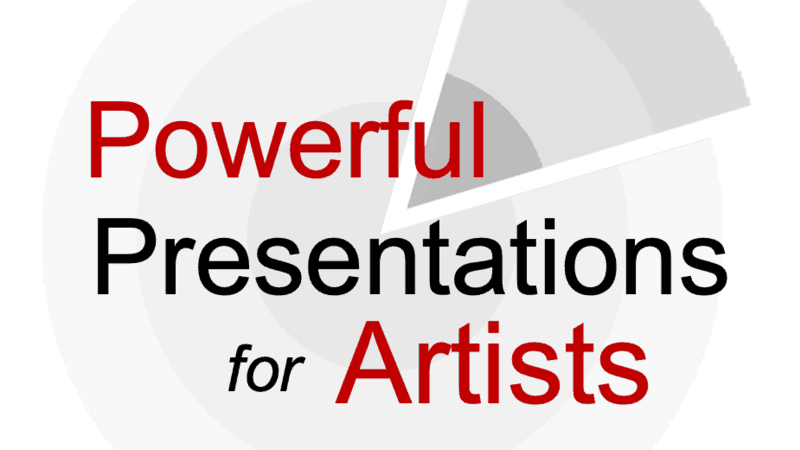 Powerful Presentations for Artists
Kadenze Academy