Shared community spaces not only serve as bustling cultural hubs, but can also be areas to project artistic ideas on a massive, public scale. One of the most direct and common ways of showing a visible message is through public art installations.
At once an aesthetic, site-specific work and public service announcement, public installation art is an effective way of grabbing attention while imparting subversive social commentary. Instead of alienating audiences, their often participatory design draws viewers in to take a closer look and decipher the meaning of the work. The element of interactivity keeps engagement with these artworks ongoing. Global awareness helps make public installations etched in viewers' cultural memory of the cities they inhabit.
Kinetic Rain (2012)
Artist: ART+COM
Changi Airport, Singapore
What better way than to ease the stress of flying than through public art? The ART+COM installation welcomes passengers as they pass through Terminal 1 of Singapore's renowned Changi Airport, consisting of more than 1,000 "falling" bronze raindrops synchronized to assume 16 shifting forms. Each droplet is connected to a motor that is individually operated by an encoder. A collaboration between artists, designers, and technologists, the living sculpture is a symbol of harmony and community.
Support (2017)
Artist: Lorenzo Quinn
Venice, Italy
Appearing in 2017, sculptor Lorenzo Quinn's Support resembles the gesture of a Roman god offering divine intervention. The larger-than-life sculpture consists of two white hands posed delicately against the corner of a building. The hands appear to have risen from the waters, an ominous warning of the impending dangers of climate change.
Liquid Shard (2016)
Artist: Patrick Stearn
Pershing Square, Los Angeles, CA
Floating high above Los Angeles' Pershing Square, Liquid Shard is a refreshing sight deep within the concrete jungle. Strips of silver form a massive wave that blankets viewers underneath, letting light peek through to form a pattern of shadows. Artist Patrick Shearn constructed the piece as part of a contribution to promote LA's public art initiative.
Fearless Girl (2017)
Artist: Kristen Visbal
Wall Street, New York City, NY
Positioned in front of the famed Charging Bull statue within New York's Financial District, Fearless Girl is a defiant, unapologetic statement against gender inequality. European sculptor Kristen Visbal was commissioned to build the statue by investment firm State Street Global Advisers. The firm intended the statue to put pressure on 787 all-male boards in to add more female members.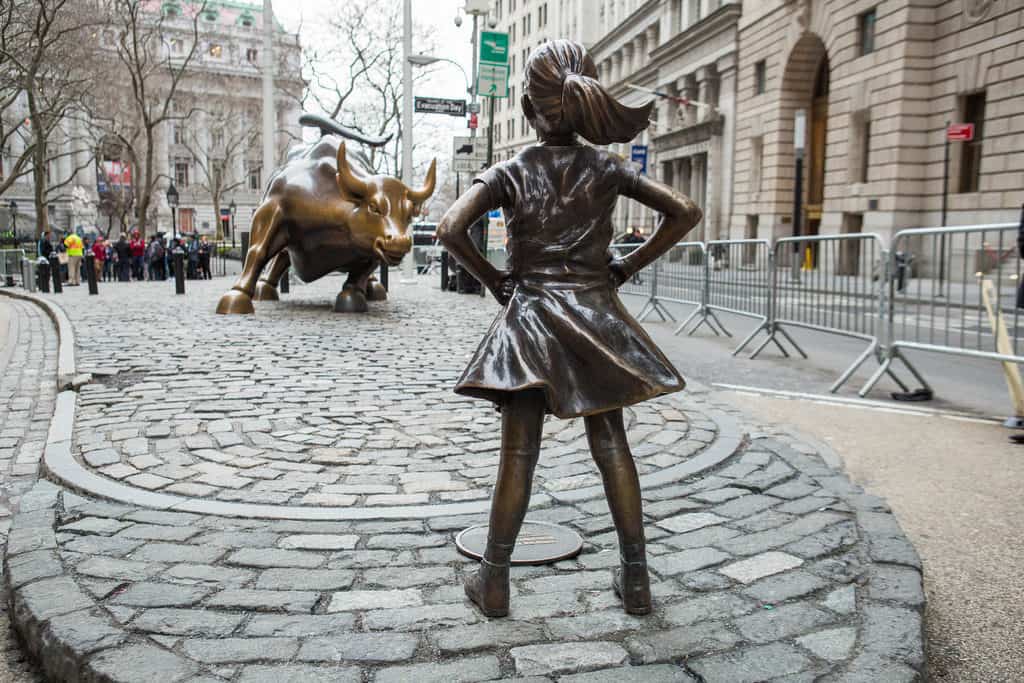 Garden of Light (2017)
Artist: Greyworld
London, United Kingdom
From dusk to dawn, a garden of illuminated daffodils cover the grounds of St. Pauls' Cathedral in London. Art collective Greyworld installed the piece, an ode to scientist Marie Curie and the nurses inspired by her achievements. The interactive garden contains other tributes to memory to connect the living and the dead: a remembrance wall for deceased loved ones and recordings of people expressing how Curie affected their lives, emanating from the daffodils themselves.
Prismatica (2014)
Artist: RAW Design
Montreal, Canada
Featured at the Place des Festivals in Montreal, Canada, architecture studio RAW exhibited Prismatica. 50 rotating glass prism structures surround viewers with a magical display. Inside are projectors that reflect light that results in an elegant kaleidoscopic effect.The symphony of lights and bell sounds combine to present an audiovisual experience.
Incipit (2015)
Artist: Edoardo Tresoldi
Meeting del Mare, Camerota, Italy
Looming over a backdrop of Italy's shores are gigantic wire mesh structures that look like the remains of a building. Sculptor Edoardo Tresoldi installation appeared at the Meeting del Mare. Some of the detailed features include suspended birds within the tower structure as well as archways. Incipit's transparency evokes a moment caught in time, preservation of the fleeting grandeur of past monuments.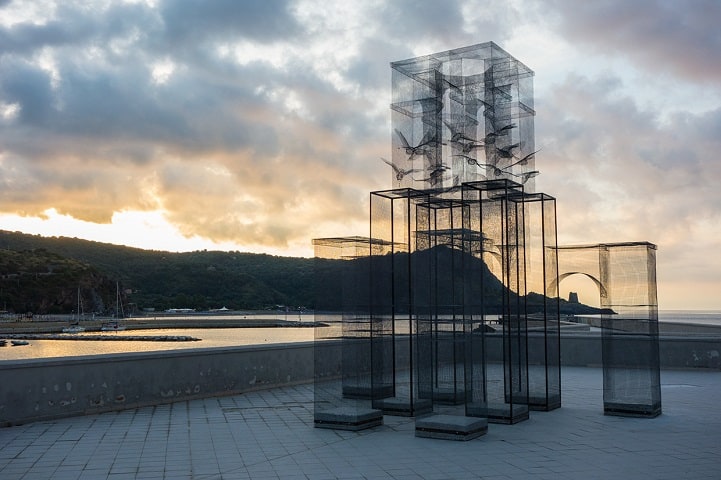 Accumulation (2017)
Artist: Yang Minha
Seoul, South Korea
Looking into Yang Minha's electrifying installation feels like falling down an interstellar rabbit hole. Accumulation is an LED light tunnel located located near Seoul's Le Meridien Gate in South Korea. The tunnel consists of a series of geometric metal grids rotated in different angles, giving the illusion of movement. Six light sequences convey expressions of temporality and the passage of time.
Mirage (2017)
Artist: Doug Aitken
Palm Springs, California
Situated under California's hot sun, Doug Aitken's Mirage is aptly named. Travelers who came upon this installation were surprised to see not an illusion but a physical structure. Aitken bought a farm house and covered every inch with mirrors. Set in the middle of the scorching Mojave Desert, Mirage is unaffected by the harsh elements, a testament to Western dreams and perseverance.
Pigalle basketball court (2017)
Artist: Ill-Studio, Pigalle, & NikeLAB
Paris, France
Disrupting the concrete monotony of a Paris suburb, an urban basketball court is transformed into a colorful ombre playground. Redecorated over several years, the court's newest retro iteration was a joint effort by photography agency Ill-Studio and fashion house Pigalle (with help from NikeLAB). The fun, saturated tones and color-block forms call back to 90's style, underscoring the link between sports and youth culture.
Descension (2015)
Artist: Anish Kapoor
Fort Kochi, India
Stare straight into the swirling depths of the abyss, if you dare. UK artist Anish Kapoor's installation challenges audiences to peer into a giant black vortex of water spinning to no end. Called Descension, the exhibit debuted at the 2015 Kochi-Muziris Festival in India then was later installed at Brooklyn Bridge Park in 2017.